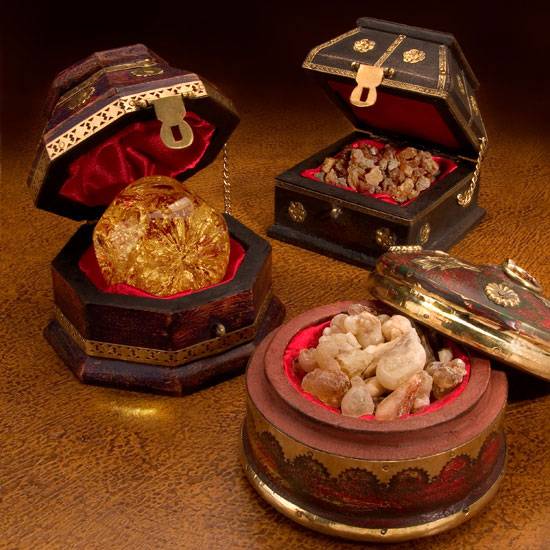 At the end of January our friends are more eager to make Valentine's Day dinner reservations than reflect on three wise men from the East bearing gifts of gold, frankincense, and myrrh. We understand. But we think you will enjoy the insight.
"When they saw the star, they rejoiced exceedingly with great joy. After coming into the house they saw the Child with Mary his mother, and they fell to the ground and worshipped Him. Then opening their treasures, they presented to Him gifts of gold, frankincense, and myrrh." (Matt 2:10-11)
Scripture doesn't tell us the exact number of wise men or the time of their arrival. St. Dmitri of Rostav believed they could have been present at His birth if they saw the star at the Annunciation and began to arrange for the caravan then. However, the Gospel According to Matthew says that they came to a "house" not a cave or a manger and that Jesus is called a "child" not a "baby" as in Luke's chapter when the shepherds were to find a "baby wrapped in cloths…"
It's a tradition of the Christian faith that there were three kings, though there could have been more. The names are also tradition; they were never named in scripture.
Tradition also surrounds the meaning of the gifts. Balthasar was a young man and brought myrrh, a burial ointment, a gift for one who would die. Malchior was middle aged, and brought frankincense, the gift for a priest. Gaspar was an old man and brought gold, a gift for a king. All together, the men represent us, humanity, welcoming Jesus into the world as suffering redeemer, God, and King.
Gaspar's gift invites me to reflect on the wealth we possess. Gaspar was the first of the magi to kneel before the King of Kings and offer his gift. Because he is older and wiser, he more readily understands the real gift that is present, and is most willing to give up what the world would deem valuable in return for the gift of the redeemer.
Many of you understand that your wealth is truly valuable when you give it to the service of the Lord and His kingdom. In the process, you instill values and legacy to your children and grandchildren. During the last five years, the Stewardship Foundation has enabled your generosity to benefit those organizations on the front lines promoting life, family, and religious freedom.
We look forward to your continued backing and the valuable partners we have developed. Now is the time to set your philanthropic goals for 2015. The Stewardship Foundation has proven it can foster successful, yet morally approved investment strategies for you and the organizations you support. Contact us to ensure that your investments are morally sound and your donations promote the culture of life ushered in by the newborn King and honored by the magi.